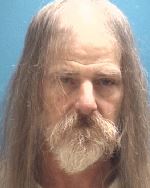 Columbus police serving an arrest warrant early yesterday morning found more drugs at the home of the man wanted for drug dealing.
According to Columbus Police Department reports, officers served the arrest warrant at about 12:15 a.m. Wednesday morning in the 100 block of Cherry Street, on 57-year-old Roger K. Burton who is wanted for dealing methamphetamine. He was taken into custody without incident, but while at the home police noticed additional narcotics and drug paraphernalia.
In addition to the outstanding Bartholomew County warrant, Burton is facing new charges of possessing methamphetamine and drug paraphernalia.