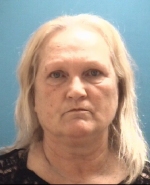 A Columbus woman was arrested on drug dealing charges Tuesday in what the sheriff is calling a big drug bust.
According to reports from the Bartholomew County Sheriff's Department, deputies stopped a vehicle in the area of East County Road 800N and North 100E at about 11:49 p.m. as part of a Joint Narcotics Enforcement Team investigation. A Columbus police dog alerted to the odor of narcotics in the vehicle and a search uncovered about 55 grams of suspected methamphetamine.
The driver, 64-year-old Pamela Schaefer was arrested on preliminary charges of dealing in and possessing methamphetamine.
Sheriff Matt Myers said he was proud of the agencies that worked together to make the arrest and thanked the Joint Narcotics Enforcement Team. The Joint Narcotics Enforcement Team is a combined unit of the Bartholomew County Sheriff's Office, the Columbus Police Department and the Bartholomew County Prosecutor's Office targeting the manufacturing and abuse of drugs in Columbus and Bartholomew County.