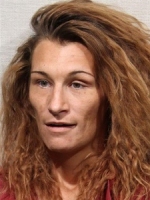 A Medora woman has been arrested in Seymour after being caught with items stolen from several area stores.
According to reports from the Seymour police Department, officers were called to the Seymour Wal-Mart Thursday after a woman was seen on video footage taking electronics from the store. Police say that the video showed her obtaining keys and a security tag removing device, then unlocking a cabinet taking electronic devices.
An officer found the woman at a store Thursday and police took 29-year-old Kennedie P. Miller into custody. A search revealed she was carrying other people's identification and credit cards as well as clothing from other stores with the price tags still attached. Police say that Miller had used two of the credit cards for transactions at the Wal-Mart.
After obtaining a search warrant for a purse that Miller did not have in her immediate possession when arrested, police discovered the keys, the security removal tool and the electronic devices, along with cell phone SIM cards.
She was arrested on preliminary charges of theft, criminal trespass and fraud. More charges are expected for the stolen clothing items.