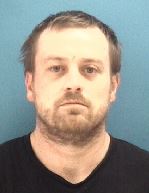 A Flatrock man was arrested on three outstanding warrants after store security called police about a man switching labels on merchandise.
Columbus Police Department officers were called to the Whitfield Drive Walmart store at 5:55 p.m. Monday evening about possible shoplifting.
Police spoke with 31-year-old Jordan L. Caldwell and found he was wanted on the three Bartholomew County warrants. A search as he was taken into custody also discovered he was carrying methamphetamine and drug paraphernalia.
In addition to the outstanding warrants he is facing new possession charges.