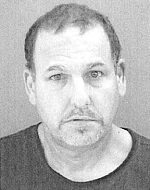 A Tennessee man is accused of stealing dozens of scientific calculators and medicine from a Columbus Walmart store.
According to Columbus police reports, officers were called to the Whitfield Drive Walmart at about 4:45 Saturday afternoon about a possible shoplifting suspect. Police say that 51-year-old Gregg Lestingi of Oak Ridge, Tennessee stashed calculators inside of a mailbox which he then bought at the self checkout line.
When police confronted Lestingi in the parking lot they noticed what appeared to be stolen merchandise in the vehicle. A search revealed more calculators and over-the-counter medicine supplements. The value of the stolen property was estimated at more than $8,500. Police believe that he intended to sell the items on the internet.
He was arrested on preliminary charges of theft and possession of a controlled substance.
Evidence photo courtesy of Columbus Police Department.