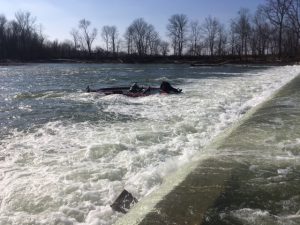 Jackson County deputies rescued two people who were trapped when their boat lost power and then was swept over a dam Sunday on East Fork White River.
Indiana Department of Natural Resources Conservation officers report that the incident happened at just after 2 p.m. Sunday afternoon at the Rockford Dam where two people were fishing on the upriver side of the dam, when their boat lost power to its trolling motor. The people in the boat tried to start their main motor, but it wouldn't start either.
Deputies arrived and threw a rope with a throw bag to the boaters, and pulled them in close enough to shore so that they could evacuate before their boat went over the dam.
Both of the occupants were taken to Schneck Medical Center for treatment of hypothermia and are in good condition. Conservation officers say that they were carrying the required life preservers onboard the boat but the occupants weren't wearing them at the time of the incident.
Deputies Joey Francis and Dustin Steward were first on the scene for the rescue. They were assisted by Indiana Conservation Officers, Brownstown Police Department, Indiana State Police, Seymour Fire Department and Jackson County paramedics.
The incident remains under investigation.