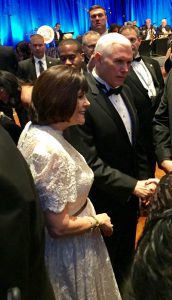 A number of local residents and officials are in Washington D.C. to witness the inauguration of Columbus-native Mike Pence as the next Vice-President of the United States.
Bill Lentz, a Republican who serves on the Bartholomew County Council, says that security is very tight…
Lentz says that he attended yesterday's wreath-laying ceremony at Arlington National Cemetery which included Pence and President-elect Donald Trump. He noted that security measure were extremely high there as well.
We asked Lentz if he's encountered any protesters…
Lentz also attended Thursday night's Indiana Society Ball, which was co-chaired by former Indiana First Lady Karen Pence. He was among several local officials in attendance, including State Rep. Milo Smith, Bartholomew County Republican Party Chairwoman Barb Hackman and Columbus Clerk-Treasurer Luann Welmer. Rep. Smith talks about the atmosphere of the ball…
Smith was among a large group of local residents and officials who chartered a bus to attend the inauguration. That group is scheduled to return to Columbus on Sunday.