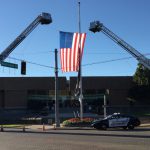 Bartholomew County and Columbus law enforcement officers and firefighters held a somber ceremony on the front steps of Columbus City Hall Sunday morning memorializing those who lost their lives in the Sept. 11 attacks 15 years ago.
The ceremony included the ringing of a fire bell, bagpipes and a radio call from emergency dispatchers timed to coincide with the moment of the first plane crash.
Columbus Fire Chief Mike Compton explained that a close family friend worked in the World Trade Center complex and lost his life on Sept. 11th, leaving behind his wife and children.