Bartholomew County Council has ironed out a budget for next year, but they will still be wrangling with the County Commissioners over an economic development fund that has mostly been used for road improvements and a proposed property tax increase.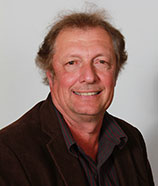 Council President Bill Lentz offered the compromise last night.
The proposed budget calls for taking $700,000 from an income tax fund set aside for economic development, but usually used to repair road. The commissioners had earlier said they would hand over $200,000 from the fund. But the council believes it now has the authority, after changes to state law, to control how much to put into the fund in the first place.
Commissioners disagree. They had voluntarily offered $200,000 from the fund, but were prepared to square off over control of the rest of the money. Commissioners President Rick Flohr:
In a separate division in the budget process, one of the hardships the council faces is that the county does not have a cumulative capital development fund in place. Without that fund, the state took away about $680,000 from the county's budget
Flohr explains that the commissioners would rather the council approve an increase in the income tax rate for residents:
The council will meet again at 5 p.m. Thursday in the Governmental Office Building on Third Street for further budget discussions.